in Face & Body
Most of the products that you can buy on the market these days that are designed to be used as anti-aging treatments, actually do not offer much in the way of facial rejuvenation, regardless of what they may say. For the most part, even the best anti-wrinkle skin cream is just an optical illusion, as such, in the way that they change the way that light is reflected on your skin so that it looks better. The reason behind this is because many of the problems that our skin is faced with, for example, wrinkles and sagging, is actually caused by layers much deeper than those that even the best anti-wrinkle skin cream can manage to reach.
Added Collagen… Really?
You will find that many of the anti-wrinkle skin cream varieties on the market say that they contain collagen. This is great for getting rid of wrinkles and sagging skin, especially on the face. However, these products that contain collagen won't actually do much in the way of fixing your own skin, because collagen particles themselves are rather large. This means that it doesn't matter how much extra stuff is "rammed" into the "Best eye cream in the world," the collagen won't be able to penetrate the top layers of your skin to get to the bits that really need it, so in reality, you are just spending money on stuff you probably shouldn't have spent it on. Even if there was a magical way that the collagen could barge its way through the top layers of your skin, there would be no way of it "hooking" up with your own collagen, so in the end, it's all rather pointless.
[wp_ad_camp_1]
What about moisturizer?
Another myth, as such, created by the beauty world – moisturizer. The best anti-wrinkle skin cream must contain some moisturizing agents in order for it to be beneficial for your skin, but rather than adding moisture to the skin, it actually just provides a waterproof layer on the top so that you don't lose any moisture. It's almost like false advertising when you think about it. Especially when you consider how much money you spent on the latest under eye cream that is designed to reduce "bags" and moisturize to a wrinkle-free surface! (See The Truth About Skin Moisturizers.)
So is it worth buying them at all?
Of course it is! We are not saying that you should never buy another anti-wrinkle skin cream for as long as you live, quite the contrary! We are just suggesting that you should educate yourself before you spend a small fortune on the "magical" creams out there, only to be disappointed later on when it would appear that they do not work in quite the way that you thought they might.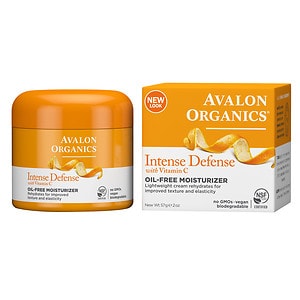 MORE CREAMS WITH VITAMIN C
Moisturizers, for example, are still incredibly beneficial to your skin, even if they do not actually add any moisture to it. Your skin will be improved from repeated use of a good moisturizer because you are stopping the hydration from getting out. There are some super-strength moisturizers out there that WILL help your skin on a much deeper level. For example, those anti-aging treatments that contain Vitamin C actually do your skin some good. This vitamin CAN reach the deeper levels of your skins makeup, and help to revitalize and rejuvenate those skin cells that you need to in order to look more youthful (see 
A Closer Look at Vitamin C for Skin
). There are some products out there that contain other ingredients just like Vitamin C, for example, green tea and Vitamin E, which again, do your skin the world of good. These can help protect the upper layers of skin from the world around us – UV rays from the sun, pollution and much more, and in turn, because you are protecting your skin from the damage that can be caused, it will be in much better physical condition. (See 
Vitamin E for skin – Discover the Benefits
.)
What about eye creams?
MORE EYE CREAMS WITH VITAMIN K
We have mentioned the under eye cream, and the main problem with even the best eye cream on the market, is that most women simply do not know how to use it in the correct manner. The skin around the eyes is incredibly delicate and will actually absorb the nutrients in the creams that you are using much quicker than on other parts of the face. The reason you should use a specific under eye cream, and in fact an eye cream full stop, is that they are usually made in a much more delicate and sensitive manner, containing less harsh ingredients than those that you would use elsewhere on your face.
The best eye cream on the market will do so much more than just moisturize the skin. Caffeine is usually included, (and should be in the most expensive or high quality brands) because this helps with water retention around the eyes; just one of the things that can cause puffiness and dark circles. Vitamin K is another good ingredient – this one helps to constrict the dilated blood vessels. You might even expect to see some of the best wrinkle fighters in there such as Retinol and other ingredients.
[wp_ad_camp_1]
At the end of the day, the best anti-wrinkle cream or the best eye cream is what you make of it. If you realize that no amount of cream, no matter how expensive it is, will perform the kinds of changes on your face that you really want, you will be much happier with the results. The look you are going for is something that can only normally be achieved with surgery. However, if you take the products at face value and understand that they will do some good, but perhaps not as much as you thought, you will be in a much happier place!
Related articles: